What an exciting day yesterday!!
Two mini buses full of photographers visited Tresorya. Led by the famous American photographer Tony Stromberg, and accompanied by members of his team Susan Pfeifer and Peter Clotten.
We were asked to provide facilities for the participants of the photographic workshop. We believe that nearly 20,000 photos were taken throughout the day and evening. Photos were taken in all areas of the stud – Stallions, youngstock, mares and broodmares and foals. We were fortunate with the weather and everyone appeared to be having a good time. It was a really enjoyable experience for us too! We now look forward to seeing the photos which will hopefully be received in a couple of months time.
A very memorable occasion!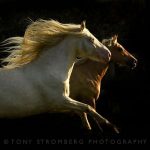 First Photograph received after Tony Stromberg's Workshop
Cremello Licensed Stallion W.P-B.R. Tresorya Gwynhaf Llawen with Palomino Mare W.P-B.R. Tresorya Hafwen.
Both are currently offered For Sale.