Today has been really exciting at Tresorya with the arrival this morning of a Palomino Filly by Cremello Welsh Part-bred Licensed Stallion Tresorya Gwynhaf Llawen and out of Full Welsh Cob Section D Mare Tresorya Llywela Cain.  She is very pretty, a rich palomino and a good size, with a star and 4 whites. Photo on left of Tresorya Lucky Charm taken at 2 days old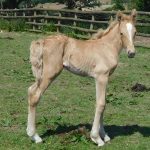 During the morning whilst showing someone the new arrival we had a surprise when we found another foal had arrived, and in such a short space of time!
This time a very pretty filly by Full Welsh Cob Section D Licensed Stallion Tresorya Cornish Cream with Derwen and Nebo bloodines, and out of Greenwing Cornish Fudge, Grandsires: Trevallion Valentino and Trevallion Flash Jack. At the moment her colour is uncertain whether Palomino or Cremello? She is also very pretty with a blaze and 4 whites. Photo on right of Tresorya Cornish Fantasy taken when I day old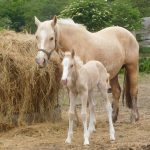 .
BOTH PRETTY FILLIES ARE OFFERED FOR SALE AND A DEPOSIT WILL SECURE TO WEANING.